HEATHER TOZER - Nome
A beautiful liveable shed


What do you use your shed for?
My shed is my home. It is a converted American barn with an English conservatory, with a tropical feel, hopper windows and wooden louvers added to the front.
It started out as a 9x9m, with a small deck on the side and carport plus storage shed at the back. I have dressed it accordingly, with old/antique furniture including a blue glass chandelier hanging from the cathedral ceiling. It is designed and built so that as I age, I will be able to manage physically. I live next door to my son who is a single Dad with two children whom I see daily. They go to school at Southern Cross High School.
One should never judge a book by its cover, it may look like a shed but inside it is a home, well loved and everything I need.

What other ways do you use your shed/home?
Painting was a hobby I took up eight years ago and now a passion. I have converted one of the bedrooms into a studio.
I belong to the Fairfield Waters Painting group and we are often preparing for exhibitions around Townsville.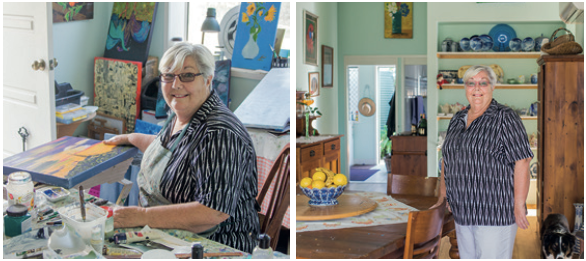 Is there anything else you'd like to add?
I live in the barn by myself with a 22-year old cat and a rescue dog, chooks and a veggie garden
I retired last year from Queensland Health where I was a midwife.
I love the idea of an American barn with the high ceilings and love the Conservatory look. I can lock the midges out in summer and when it rains I feel as though I'm part of the weather itself.
The barn has high ceilings and fully insulated with air-conditioning, solar power and tank water. With my son, grandchildren and myself, we have three generations living on one property but have our own space.