Awesome Awnings for Townsville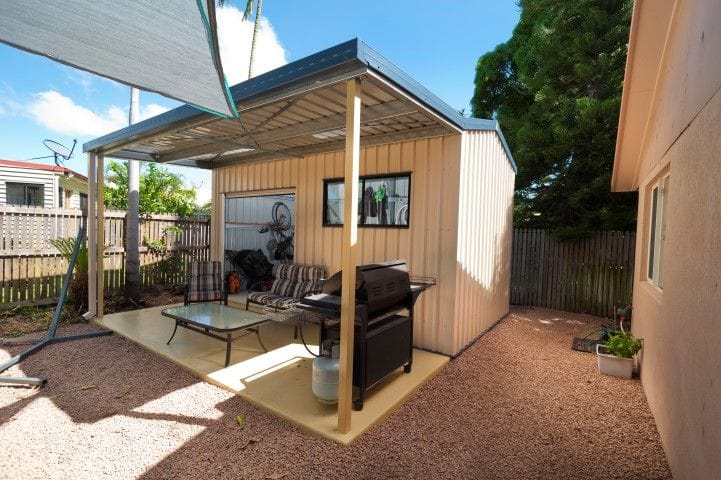 It's not so much about just adding an awning, it's about recreating your lifestyle. If well planned and constructed, it will expand the value of your life by creating a new living space at home.
Townsville offers a lot of opportunity to live a life outdoors, the sunshine is consistent and the skies are blue almost everyday. The problem though, is the harshness of the sun, no one likes to be burned and escaping the heat becomes obvious. By incorporating good awning designs and clever ideas, you can beat the heat and enjoy the best of what outdoors has to offer. It's actually really easy!
The real value of an awning comes from an improvement in your lifestyle, and increase in overall happiness. With the right awning, you can take advantage of the spectacular atmosphere generated at sunset, but also you are able to safely sit outside during our impressive storms. With the right planning, the awning can be used to cool down parts of the house by providing shade and allowing airflow. There is a lot of value in having another comfortable space to put your feet up!
Awnings, Sun Safety and Shade
Townsville experiences long days, the sun can be brutal especially on the 12 hour sunshine days. Being able to enjoy yourself in an outdoor setting is all about having ample shade cover. The sun can do a lot of damage to your skin, but also to your furniture. And it's important to think about where you need shade during the planning stage, this is something we are happy to help you with.
In the hot tropics, shade protection is crucial to allowing you to fully utulise your space without worry about sun damage. Through their website YourHome, the Federal government recommend your awning be facing north. By being smart it's easy to maximise the effect of your awning, we can certainly help you with the design and planning stage.
If you are not sure of the orientation of your home, we can do an onsite inspection and make recommendations specific to your home.
Homely Touches
Once the construction is completed, and you are ready to settle into your new space, it's important to add some personalised touches. Lighter furniture will allow you to move things around, which will allow you to use your space in many different ways.
One great way that people decorate their outdoor spaces is with potted plants. This creates a fresh feeling and introduces nice green colours to your home. It's a great place to start a small herb garden, many herbs require some protection from the sun and it's great to have all that flavour available to pick whenever you want.
It's Your Choice
What you need, and what you want is completely up to you. We are here to help you have the solution you are looking for. If you have any questions, please don't hesitate to call us on 4774 5777.