Customising your shed to handle noise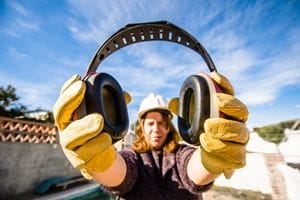 Yes, it's your shed and you should be able to do whatever you want. However, there are some restrictions with regards to noise. In Queensland, the law enforces that your power tools cannot be audible for your neighbours after 7pm, or before 7am. With the normal working lifestyle, this means that your options for when you can use anything that makes a loud noise limited.
If you are planning on using the shed for anything that makes noise, a power tool or drum for example, then it is recommended that you consider addressing this during the design phase. There are ways that you can control the amount of noise that your neighbours hear.
Using the wall to your advantage
Sound can sometimes be a little tricky, but by padding your walls, you can help capture the sound and minimise the amount of volume that enters the neighbourhood. Also consider that even though a window is a great way to increase airflow, it will allow noise to escape. If you know for a fact that you will make a lot of noise, it might be better to not include a window in your shed.
In the case that you do insulate the walls and choose not to have windows, you will need to address heat and ventilation, which a whirlybird can solve with relative ease.
Use less noisy equipment
Some older equipment may be poorly designed and as such makes more noise then more modern equipment. In the case that you live in a densely populated area, it is worth finding equipment that operates within certain noise restraints. In terms of musical equipment, many drummers opt for electronic drum kits at home and use a normal kit in soundproof studios. This way they can control the volume and get the practice without disturbing anyone.
Maximising the position
Not every property has the option due to the lack of size, however it is possible to better position a shed to minimise the amount of noise that will annoy your neighbours. This is basically designing your shed to best suit your landscape and environment. We are happy to discuss these options with you, to help better design your shed with regards to noise. By designing your shed with better advice, you might be able to save yourself a huge headache in the future.
It's never a nice feeling when you receive a complaint for too much noise, most of the time it can feel unjustified. It's important to remember that your neighbours might not want to hear your power saws or your passionate drumming. However, by planning and designing your specific needs in mind you can better manage this reality.
For more information about how to best design your shed,
please contact us for advice.