The She Shed REVOLUTION
Gone are the days when sheds were merely a place to dump junk and park cars. Just ask these three local Ladies who are part of the growing trend of females taking over the traditional 'man cave' to create their own 'she sheds'.
SUE'S SHEd NORTH WARD
Most days artist Sue Tilley can be found happily cutting, grinding and welding in her purpose-made 'she shed' built on a Heritage-listed site, which incorporates a Colonial-era military drill hall.

With the help of Garage World project manager Nathan Clarke, Sue designed the shed and garage so they look like traditional timber-framed weatherboard sheds, but have the strength of steel and the benefit of being low-maintenance.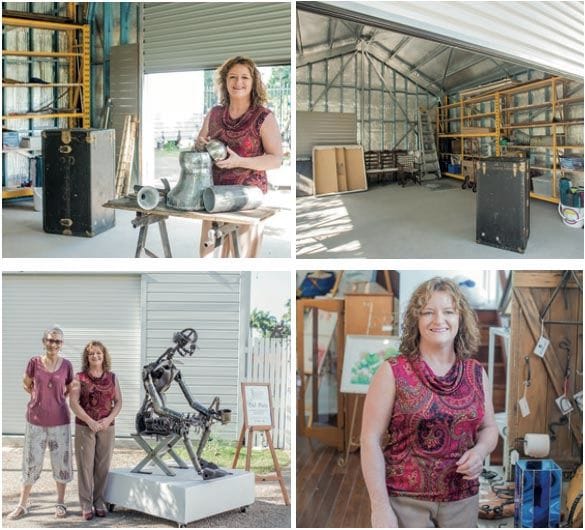 "The challenge for us was to design a product that meets today's cyclonic design requirements while still retaining that heritage look and feel," Nathan says. "This particular product is a Colorbond steel alternative to timber weatherboard and, combined with a special 25-degree roof pitch, has been designed to resemble the look of the adjacent weatherboard drill hall."
Sue's six by six-metre shed serves as her workshop, while the original drill hall is now an art gallery, office and home. The matching nine by seven-metre shed houses the cars, and her husband's and son's big boys' toys. "In my shed, the whole side wall opens to a verandah so I can get maximum fresh air and work out there in the shade too," says Sue, who is currently creating a 'Blue Wanderer' Butterfly made from vintage metal and old musical instruments for Strand Ephemera (opens this month). "I love having the space to create and, now I'm not working in the garage, the cars stay so much cleaner without the welding fumes and grinder dust settling on them!"
Take a closer look at Sue's workshop when you visit The Drill Hall Studio art gallery at 27 Mitchell Street (near The Strand), open seven days a week.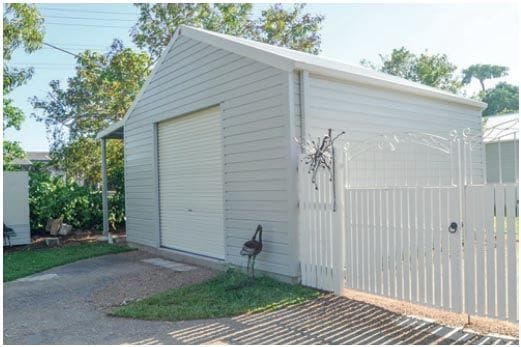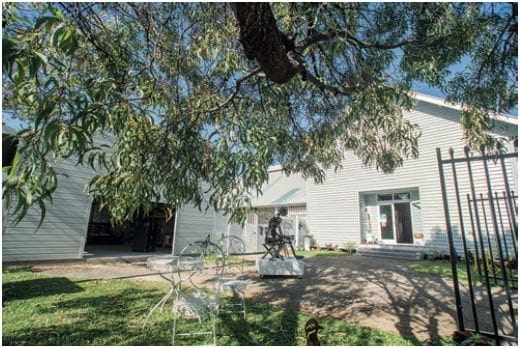 HEATHER'S SHEd NOME
Heather Tozer shares her converted American barn, complete with an English conservatory, with a 22-year-old cat, rescue dog, chooks and a veggie garden. Hopper windows and wooden louvres add to the shed's charm, which also has a small deck on the side, carport and storage space at the back .
"A feature window at the front is what sets Heather's shed apart," says Garage World project manager Nathan Clarke. "Heather also needed it to be suitable for her as she ages, which required careful planning."
Antique furniture and a blue glass chandelier add individuality to Heather's shed, which is next door to her son Philip and grandchildren Mackenzie and Clayton. She's also converted one of the bedrooms into a studio as painting is a passion. "One should never judge a book by its cover," Heather says. "From the outside it may look like a shed but, inside, it's a well-loved home with everything I need. I adore the high ceilings and conservatory look. You can lock the midges out in summer and, when it rains, you feel as though you're part of the weather."
Nathan agrees that many people underestimate the humble shed. "They're a very cost-effective option for extending your family living area, or creating an exciting business work space, without having to renovate or rent a shop front."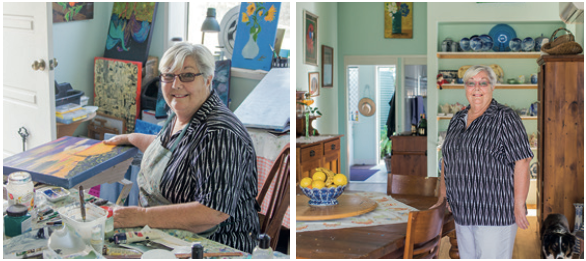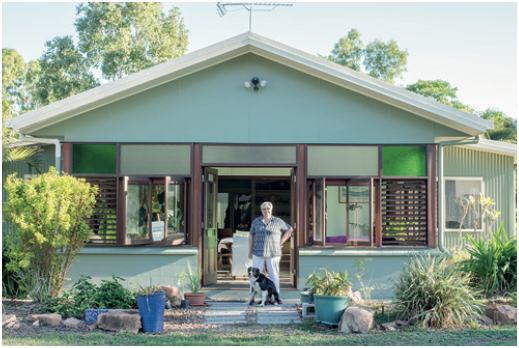 FIONA'S SHEd HERMIT PARK
Using her shed for pottery and mosaic work, and art classes, Fiona Banner loves the light and airy feel of her nine by six-metre space, with added verandah and double carport.
Only four metres from the house, Fiona says her shed is "a much better use of the space in our yard" and the perfect place to enjoy sculpting in peace. "I used to work under my house, which was a much darker and smaller space," Fiona says. "It's great to have a quiet space to shut the world out and be able to work creatively."
Garage World project manager Nathan Clarke says Fiona's shed is a unique design that incorporates three purposes in one (art studio, awning and carport) without looking like a 'blokey' shed.