Expand your options with a patio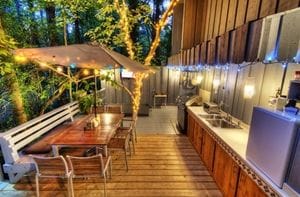 Custom design a patio for BBQs all year round. Patios give you the best of both worlds, to be outside while having the comforts of being inside. Patios make the ideal location for family BBQs, they give you the option to make the most of your home. There is something special about those days where the lunches with your family last long into the night.
Garage World Townsville offers many different custom options when designing your patio. There is an art to making the seamless experience between the backyard and outdoor entertaining area, we can help you do this to your satisfaction. The patio will protect you from the harsh North Queensland sun while allowing that breeze to flow through, while you watch your kids play cricket in the back yard. Life is good!
By choosing to custom design your patio with Garage World Townsville, we tailor the structures and layouts specifically to what you want and the property requirements. We always give you the last say, to allow you to fully customise and create the extension to your home. We make recommendations with regards to stylish options, but also how to ensure the patio and structure remain strong. We understand this is a large investment, and we want this structure to last long into the future just as much as you do.
Style and strength is important especially if at some point you decide to sell your property, this will ensure that you are adding value to your home. The stylish approach to your custom patio will help spark interest in your home, and the strength will reinforce the asking price on the real estate market.
We enjoy seeing the smile on the face of people who have their beautiful new patio constructed and finalised. To have your lifestyle improved by a patio, have a chat to the guys at Garage World Townsville and we will help you.