From Start to Finish: How long does it take to build a shed?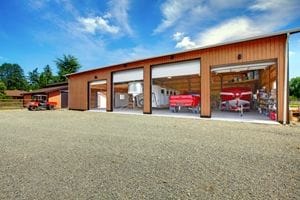 The process of building a structure can take a bit longer then people first assume. There are many steps along the way. Something like the council approval process can take as long as 3 weeks. While we strive to have this process finished earlier, you can expect the entire process to take as long as 2 to 3 months as a rough guide.
The length of the process from start to finish really does depend on the size and type of the project. For example, a simple carport would take less time than a large barn. The more complicated the project, the more likely it will take longer to complete. However, rest assured we work hard to finish the project as quickly and professionally as possible.
The Initial Consultation Process
In the beginning you will need to spend time with us discussing your project. We will need to clearly understand what you want to be able to do with your structure, and your budget and site restrictions. Once you are happy with what we can do for you, we can move to the next stage.
The Council Approval Process
The council approval process can always seem a little daunting, and take longer then expected. Once everything has been submitted, it can take up to four weeks. Often it can come back earlier, however we prefer to allow extra time as sometimes this process can take up precious time. The reason why it can take extra time depends on your location, every site is unique.
The Construction Process
Once we have approval, the construction process can begin. With over 10 years experience, we have made this process as smooth as possible. Depending on the size of your project, will determine how long this will take. Obviously, the larger the project the longer it will take.
We coordinate all aspects of the construction process. From laying the slab, to ordering the materials, to building your structure.
To find out how long it will take to build your custom built shed, carport, garage or patio, simple contact Garage World Townsville. Come in to our display centre and see examples of our work and how it will work for you.
Contact Garage World Townsville on 4774 5777, or begin request a quote online by clicking here.