Why you should add a livable shed to your property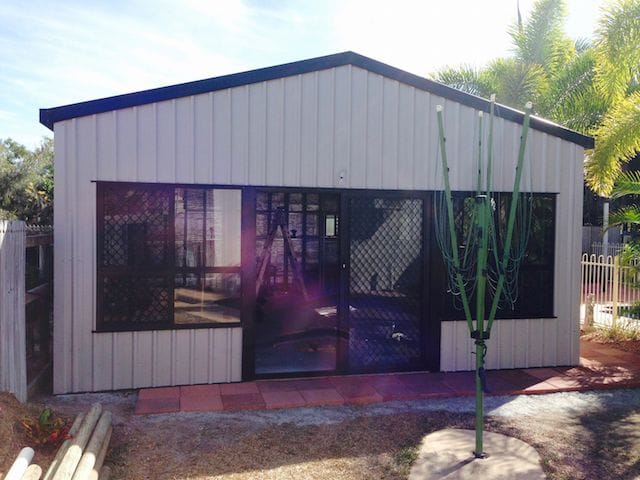 Livable sheds are definitely growing in popularity since a dramatic decrease in price and increase in strength. The interesting thing now though is that it is the humble structure of a shed is being reapplied in so many different ways. People are creatively solving their problems and expanding their lives through thoughtful design and vision. You really can have whatever you want!
These structures are getting bigger, stronger and look stunning, which is why so many people are opting for such a clever solution. This investment increases the value of the property, but also increases the value of lifestyle. The great thing is that these livable sheds are being used to replace the traditional granny flat. This is particularly interesting because Realestate.com.au has been talking about the increase in the number of times people are searching for granny flat. This trend cannot be ignored!
Because technology and technique has improved, your options for what you want are very diverse. You can have a 1 bedroom or 2, it can be a standalone structure, or attached to your house and customized to match perfectly. You can add an awning, or attach a carport if needed. It's really up to you.
Traditionally these building were constructed for in-laws or the elderly, which is where the name 'granny' flat came from. However, the modern approach is different depending on the individual. It can be a simple creative workshop, storage space, teenage retreat, parents retreat, entertainment space or spare bedrooms. It would be impossible to write down all the different ways people use their additional space.

Financial Benefits of livable sheds
Adding any structure that looks esthetically pleasing, and is strong is going to add value to your property when it comes to selling. But there are other options. With granny flat trending as a popular search term on Realestate.com.au, there is a strong demand for renting these types of living spaces. This could be a particularly good investment for people with backyards that are not being used to the full potential. It's certainly worth a conversation, to see if this opportunity is for you.

Homely, Strong and Stylish Sheds
It's important to remove any pre-conceived traditional idea of what you think a livable shed is. This is because we custom design, and the final product really depends on what you want to do with it.
Typically, these types of sheds are small, but you can creatively make more space. An creative designer can do amazing things inside, but structurally it's easy to create additional space with an awning or carport, this will dramatically increase the space without blowing your budget.
Depending on the structure, a mezzanine floor can split the space to create more space for storage, play or work. Depending how you orientate your livable shed, will cut down on electrical expenses. Carefully placed windows or sliding door will allow additional light and breeze. Skylights are a great touch, and solar powered whirlybirds cool your space down regardless of how still and hot it is outside.

Your next step for your shed
If there are ideas for a shed in this article that excite you, then the best thing to do is to make a list of everything that you would like to use it for. For example, do you want to lease it out, create art, create music, personal gym, entertainment room with large TV, comfortable place for the kids, comfortable space for me, etc.
Once you know exactly what you to do, come talk to us about turning it into something real. We can let you know how you can improve your idea and get the most out of your investment.
To book an appointment, contact us on 4774 5777 or click here.