Wind and Cyclone Ratings
To ensure that your building is designed appropriately to withstand the weather conditions of your exact block of land, the design of every building must be developed specifically for your site and reviewed by an independent engineer.
To make this assessment, the following information must be considered and should be included on any quote you receive:
Wind Region
Importance Level
Terrain Category
Topography
Shielding
Site Wind Speed
Do not accept quotes from shed suppliers who refer to 'w' values, i.e. W41 as these codes are obsolete.
Quotes from shed suppliers that show wind speeds N2 or C2 or similar, are nominations applicable for houses and some small class 10a sheds. Ask the shed seller for a quote with the site wind speed expressed in metres per second.
---
Cyclone Testing Station (CTS) at James Cook University built by Garage World
It can often be confusing when you're comparing one shed against the other. However when the scientists at JCU's Cyclone Testing Station were searching for the strongest shed on the market, they knew exactly what they were looking for in terms of strength and quality and we are proud to say Garage World was their choice.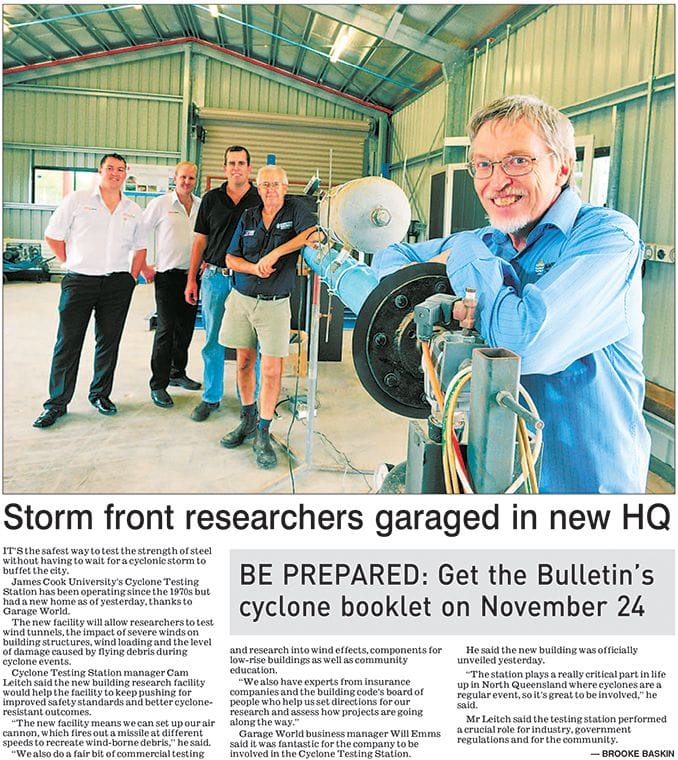 ---
Free Quote
Talk to our commercial shed specialists and see examples of our different workshops, factories and large industrial sheds at Garage World Townsville. Or apply online for a FREE quote today.